When you think of a checking account, you probably think of a bank account, debit cards, deposits, and withdrawals. But what about earning money?
With REV, you can! REV's Premier Checking account lets your money do the work for you. All you have to do is open a Premier Checking account, and you'll start earning dividends on your balance right away – it's that easy!
When you open a Premier Checking account, your balance earns up to 4% APY (Annual Percentage Yield). At REV, you're always earning on your balance, helping you reach your financial goals faster. Our accounts are designed to give you what you need with none of the hassle.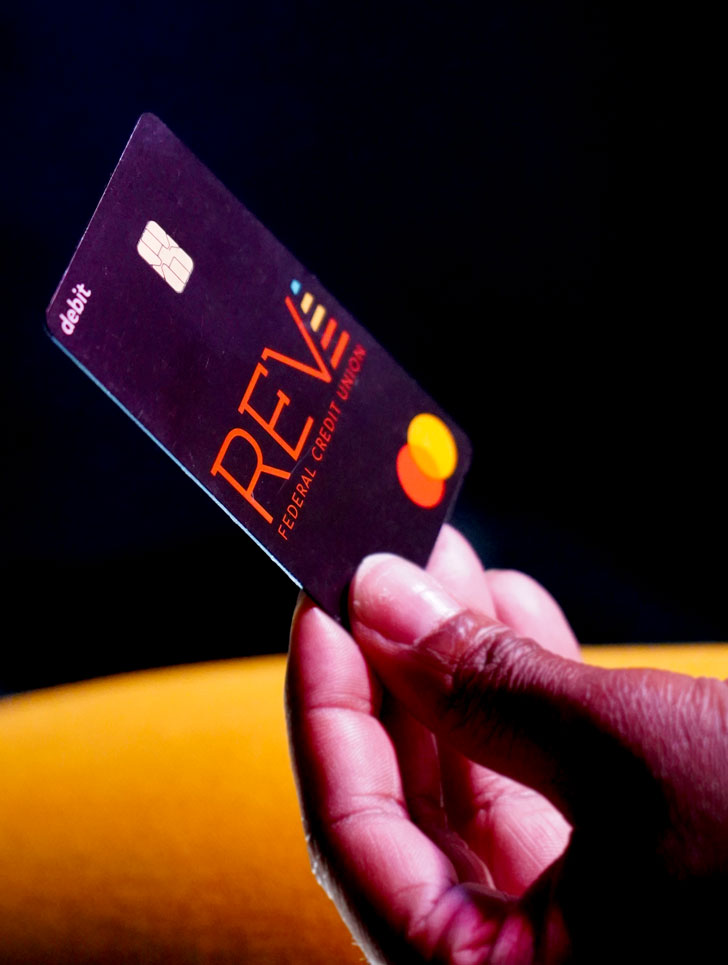 How Does a REV Premier Checking
Account Work?
Simply put, our Premier Checking account is the best of both worlds: easy access to your money and you earn dividends on your account balance.
Since REV is a credit union, the money you earn on your account balance is called dividends. With a Premier Checking account, you can earn up to 4% APY on your balance, and the percentage you earn depends on the balance in your account.

Benefits of a REV Premier Checking Account
With our Premier Checking account, you earn money just by banking with REV. Along with dividends, you have the potential to earn cash back when you use your REV debit card.
Some other perks of opening a Premier Checking account with REV include:
Easy access to funds while still earning a
high APY

No account fee

No minimum balance
Up to $10 in ATM fee refunds

Digital banking

Convenient branch and ATM locations
How Do I Know if a REV Premier Checking Account is Right For Me?
Opening a Premier Checking account is great for anyone who wants to earn money on their deposits.
You may want to consider our Premier Checking account if you currently have money in a Certificate of Deposit (CD) that is maturing soon.
By transferring those funds to a REV Premier Checking account after your CD matures, you can continue to earn on your saved money. Plus, since the funds are now in your checking account, you have the option to use the funds if you need them while still earning up to 4% APY on the balance.
At many banks and credit unions, checking accounts may not earn interest or dividends, and many come with fees or account minimums. If you want more from your checking account, you need checking powered by REV.
1APY = Annual Percentage Yield. Checking dividends may change after the account is opened and are subject to change on a monthly basis. Only one (1) Premier Checking account per primary member and only one (1) rewards type available on a membership at one time. The higher APY will be paid on checking balances up to a maximum of $10,000.00. Balances above $10,000.00 will be paid the stated Primary Savings Rate. See current rates.
To qualify for the higher APY, you must meet the following requirements; otherwise, the APY will be paid at the stated Primary Savings Rate on the entire balance of the account: You may receive the higher APY on your Premier Checking Account at the end of the month (calendar month) when you (1) must have electronic deposit(s) totaling at least $500.00 (accumulative) to the Premier Checking account each month (electronic deposits may be in the form of direct deposit, mobile check deposit through the mobile app, ATM deposit, or ACH transfer from another institution and (2) make at least $500 in Combined Net Purchases from any of the following credit union cards: Debit Card using your PIN, signature, or other authorization, or credit union credit card.
The following conditions apply to the qualified ATM Fee Reimbursement. Qualified Fees are fees charged by the owners of non-REV ATMs (also known as "surcharge fees) that are less than $10.00 per the following ATM transactions; (a) withdrawals of at least $10.00; (b) balance inquiries; or (c) balance transfer. REV will reimburse qualified fees totaling up to $10.00. REV will waive our "foreign ATM fee;" the fee that REV normally charges for using non-REV ATMs" without reducing your $10 limit. ATM Fee Reimbursement will be applied on the last day of each month if all account requirements are met. Account must be open at time of reimbursement. Please save your receipt to resolve any discrepancies.

2There will be a $5.00 monthly service fee if the above stated qualifications are not met. Other restrictions may apply. Member must be in good standing.
Combined Net Purchases means the total dollar amount of purchase at merchants using any of the above cards, minus any credits for returns, transaction disputes, or other reasons other than a payment to a credit card account. Each amount is counted in the calendar month in which it posts as final on your account, even if the transaction began in a prior month. For example, if you purchase $200 in goods on January 31st but the merchant does not post the transaction to your account until February 1st and then you return the goods for a $200 credit on March 15th, then your Combined Net Purchase would be impacted as follows:
January: no impact because the transaction is still pending.
February: +$200 for the purchase posting.
March: -$200 for the return being credited.
Combined Net Purchases may be made using the physical card, the numbers printed on the card, or the card within a mobile wallet such as Apple Pay. The Combined Net Purchases from your debit card only include the transactions that post to your Premier Checking account. If you have credit cards under multiple memberships with the credit union, the Combined Net Purchases from your credit cards only count toward the Premier Checking under the membership account number associated with the cards. If you are unsure, your credit cards are listed under their associated membership number in internet banking and the mobile app. Combined Net Purchases do not include ATM transactions, cash advances, balance transfers. Inclusions or exclusions of a particular payment service may be changed from time to time without notice.