December 2019
Picture the sweet four-year-old girl who worked hard all year to be on the nice list sharing that she loves Minnie Mouse but also needs a new winter coat and shoes to fit her growing feet. Her list is not far off from the lists you have heard the children close to you share. What's dimming the Christmas lights is the fact that her family isn't sure how they are going to make her wishes come true. In the spirit of giving this holiday season, Heritage Trust fulfilled the wishes and wants of children through the Salvation Army of Charleston's Angel Tree and the HT Cares program.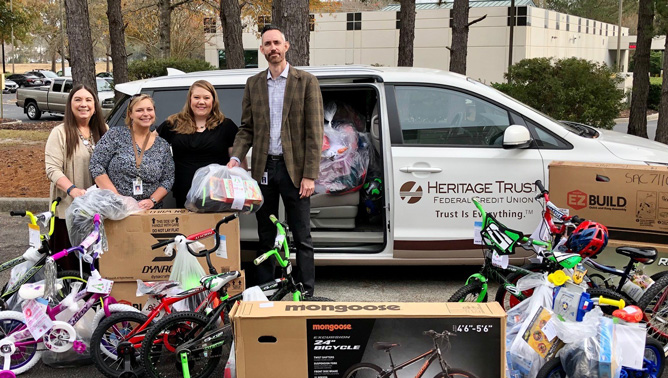 The HT Cares division of the credit union serves to connect community partners with the resources within our organization and facilitate participation and opportunities for our staff and membership. As an organization Heritage Trust adopted 44 children through the Salvation Army's Angel Tree program. Big or small, the lists for these children were carefully checked off by employees throughout Charleston, Dorchester, Berkeley and Colleton counties.
"It was a wonderful way to kick-off the holidays and cultivate a spirit of giving. The marketing department looked like a branch of Santa's workshop. Seeing all of the bikes, cars, dolls and clothing carefully packaged for each child brought a smile to everyone who passed by," said Kelly Nix, Public/Employer Relations Officer.
To learn more about the Salvation Army Angel Tree click here (*see third party link disclosure below).